The Swedish version of Zhang Wei's Scandal or Romance has finally arrived. You can buy the book from most local and online book stores. For retailors or you who would like to order directly from us, please drop us a mail to sales@jinring.se. We will reply as soon as we can.
The only novel written in the author's native Shandong dialect, Scandal or Romance describes the harrowing escape and flight of a woman being pursued by her enemies, and has been described by the writer Chen Yingsong as possessing "an unprecedented artistry of language." Immediately after publication it climbed straight to the top of the fiction bestseller lists, and sold 550,000 copies in four years.
For Swedish readers, you can read a short sample from the book here and the following is the introduction in Swedish: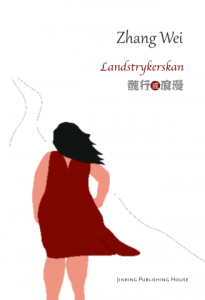 Tjänstemannen Zhao Yilun lever på minnet av sitt första, intensiva kärleksmöte i tonåren. Sedan dess har han gift sig och skaffat barn, men nu är äktenskapet på fallrepet. När hushållerskan Liu Ziran kommer in i hans liv får tillvaron en annan lyster. Men vem är hon egentligen? Och varför känns hon så välbekant? När hushållerskan börjar berätta om sitt förflutna då hon kallades Mila rullas en historia upp som inbegriper skolflicksvärmeri för byns lärare, ett brutalt tvångäktenskap med milisledaren i grannbyn och den unga kvinnans slutliga frigörelse från alla som vill göra henne till sin ägodel.

Landstrykerskans ramberättelse utspelar sig i stadsmiljö under 1980-talets reformår, medan hågkomsterna skildrar Kinas landsbygt under kulturrevolutionen. Vi får följa den oskuldsfulla bond flickan Milas sökande efter kärleken, men också hennes törst efter kunskap. Både hennes ambitioner anses mycket opassande för en flicka. Mila bryter mot många tabun på den revolutionära men i många avseenden också mycket konservativa och repressiva landsbygt där hon är uppvuxen. Författaren Zhang Wei kallar denna roman från 2003 för sitt allra mest personliga verk.